<<Pain In The Arches Reasons Indicators And Treatment | HOME |
How To Manage Bunions
Overview
The bunion, or hallux valgus, is a condition that affects the bones and joints associated with the great toe. It is one of the most common deformities of the forefoot. The condition develops slowly and results from the gradual dislocation of the joint, usually because of instability during gait. There is a displacement of the first metatarsal bone toward the mid-line of the body, and a simultaneous displacement of the great toe away from the mid-line (and toward the smaller toes). This causes a prominence of bone on the inside (medial) margin of the forefoot, this is termed a bunion. As the deformity progresses, the big toe will shift toward the outside of the foot. In severe cases, the big toe will actually overlap or under lap the second toe. It is often of a hereditary nature, but it is also associated with rheumatoid arthritis and other diseases. There are no exercises, splints or other devices that reliably correct a bunion. Orthotics can sometimes slow or halt the progression by addressing the instability which causes the deformity, but they cannot reduce the deformity.
Causes
There is much debate as to which is the major cause, but it is likely that your genetic makeup makes you more prone to a bunion or bunionette and that then wearing ill-fitting footwear causes them to develop. Studies have shown that in cultures where people don?t wear shoes but are habitually barefoot, there are very few cases of foot bunions indicating a strong correlation with shoe wear. They are more common in females, most likely due to choice of footwear.
Symptoms
The signs and symptoms of a bunion include a bulging bump on the outside of the base of your big toe, swelling, redness or soreness around your big toe joint, Thickening of the skin at the base of your big toe, Corns or calluses, these often develop where the first and second toes overlap, persistent or intermittent pain, restricted movement of your big toe. Although bunions often require no medical treatment, see your doctor or a doctor who specializes in treating foot disorders (podiatrist or orthopedic foot specialist) if you have persistent big toe or foot pain, a visible bump on your big toe joint, decreased movement of your big toe or foot, difficulty finding shoes that fit properly because of a bunion.
Diagnosis
People with bunions may be concerned about the changing appearance of their feet, but it is usually the pain caused by the condition that leads them to consult their doctor. The doctor will evaluate any symptoms experienced and examine the affected foot for joint enlargement, tissue swelling and/or tenderness. They will also assess any risk factors for the condition and will ask about family history. An x-ray of the foot is usually recommended so that the alignment of big toe joint can be assessed. This would also allow any other conditions that may be affecting the joint, such as arthritis, to be seen.
Non Surgical Treatment
Bunions are progressive problems, meaning they tend to get worse over time. Sometimes severe-looking bunions don't hurt much, and sometimes relatively modest-looking bunions hurt a great deal. Thus, treatment varies depending upon a patient's symptoms. You can often improve the discomfort of bump pain by a change to more proper shoes. Alternatively, alterations to existing shoes may improve pain associated with bunions. Accommodative padding, shields and various over-the-counter and custom-made orthopaedic appliances can also alleviate bunion pain. Anti-inflammatory medications, steroid injections, physiotherapy, massage, stretching, acupuncture and other conservative treatment options may be recommended by your podiatric physician to calm down an acutely painful bunion. Long term, orthoses (orthotics) can address many of the mechanical causes of a bunion. Thus, while orthoses don't actually correct a bunion deformity, if properly designed and made, they can slow the progression of bunions. They can also be made to redistribute weight away from pain in the ball of the foot, which often accompanies bunion development. Padding, latex moulds and other accommodative devices may also be effective. While they don't correct the misalignment in the bones, they may alleviate pain. Often, though, when conservative measures fail to alleviate pain associated with the bunion, when you start to limit the types of activities you perform, when it's difficult to find comfortable shoes, and when arthritis changes how you walk, surgery may be the best alternative.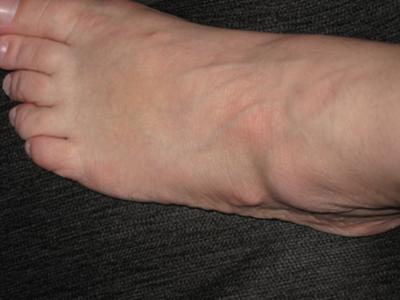 Surgical Treatment
This involves surgically correcting the deformity and can involve a variety of different methods. However, outcomes can be variable. This is very dependant of the amount of damage to the joint and the procedure used to correct it. Removal of the bunion is performed using different methods that are out of the scope of this article. Unfortunately, bunions can recur following surgery, and even if it surgery is successful, around 30% of patients still report existing difficulties.
Prevention
Because bunions develop slowly, taking care of your feet during childhood and early adulthood can pay off later in life. Keep track of the shape of your feet as they develop over time, especially if foot problems run in your family. Exercising your feet can strengthen them. Learn to pick up small objects, like a pencil or pebble, with your toes. Wear shoes that fit properly and don't cramp or pinch your toes. Women should avoid shoes with very high heels or pointed toes.
tag : Bunions,Hallux Abducto Valgus,Hallux Valgus,Tailor's Bunion,Bunionettes
Comments
Post a comment
Trackbacks
| HOME |